If you wonder who your masters are, read what happens when a Black athlete posts a link to a disapproved movie.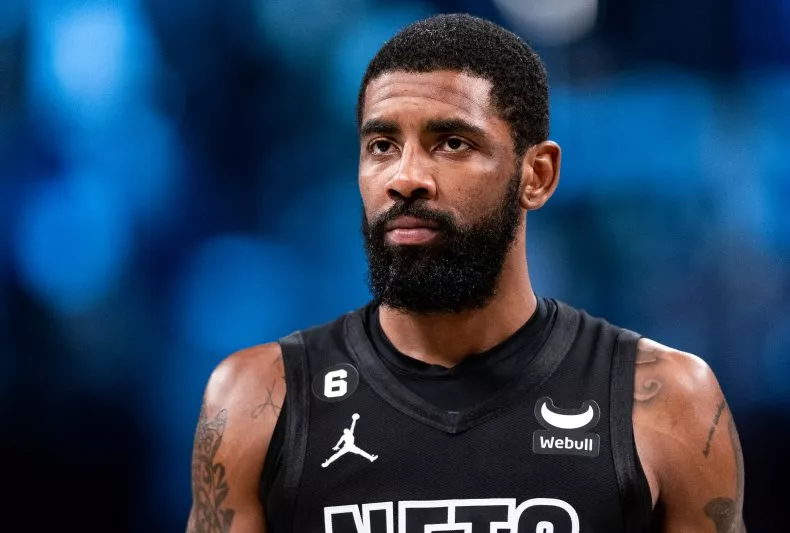 Newsweek reports:
NBA star Kyrie Irving issued an apology Thursday for posting about an antisemitic movie after his team announced he was suspended for "no less than five games."

However, the watchdog group StopAntisemitism is not satisfied with his statement or with Amazon for continuing to sell the movie.

"StopAntisemitism finds the latest 'apology' from Kyrie Irving to be nothing less than disingenuous," Liora Rez, Executive Director of StopAntisemitism, told Newsweek in a statement.

"To All Jewish families and Communities that are hurt and affected from my post, I am deeply sorry to have caused you pain, and I apologize," Irving's statement read in part. "I initially reacted out of emotion to being unjustly labeled Anti-Semitic, instead of focusing on the healing process of my Jewish Brothers and Sisters that were hurt from the hateful remarks made in the Documentary."

Irving's apology came soon after the Brooklyn Nets announced he was indefinitely suspended. The team's decision followed a Thursday press conference in which the point guard failed to apologize for posting a tweet and an Instagram story last week that shared an Amazon link to a 2018 film titled Hebrews to Negroes: Wake Up Black America. The movie has been widely described as containing antisemitic disinformation.

Irving had pledged $500,000 to the Anti-Defamation League, but the organization announced it would not accept his donation after he did not disavow the film.
The movies says that Negroes have Hebrew roots. Why would NBA management care so much about an obscure historical theory that it imposes its worst penalty?
It is bizzarre that anyone would care about a Black man making such trivial comments. Another story:
The Nets issued a statement Thursday night saying Irving "is currently unfit to be associated" with the franchise after Irving held a press conference and refused to apologize.

The team said Irving must complete "a series of objective remedial measures" before he is eligible to be reinstated with the team.

"We were dismayed today, when given an opportunity in a media session, that Kyrie refused to unequivocally say he has no antisemitic beliefs, nor acknowledge specific hateful material in the film. This was not the first time he had the opportunity — but failed — to clarify," the Nets said in a statement.
The way antisemitism is defined today, nearly everyone has some antisemitic beliefs, including Jews. Lots of movies have hateful material. What is he, a movie critic? Apparently he has to be sent to a commie-style reeducation camp to get a conforming opinion about a movie.
Only Jews would do this.
Kanye West tweeted, "I'm starting to think anti Semitic means ni**er." Only he said the word we Whites are not allowed to say. Someone deleted the tweet. The words are both derogatory ethnic slurs, I guess he is saying.
Here is another Black NBA player being cut loose for bad behavior:
A psychologist who worked for the San Antonio Spurs has sued the team and former player Josh Primo, claiming he exposed himself to her multiple times during private sessions.

Hillary Cauthen worked as a performance psychologist for the team. A lawsuit filed Thursday in Bexar County alleges that the 19-year-old Primo exposed his genitals to her nine times "despite her numerous complaints about Primo's improper sexual conduct to the organization's leadership."

Cauthen spoke publicly about the allegations against Primo for the first time Thursday in an emotional press conference where she wept openly throughout.

"I am many things, but I'm not alone in the fight to do the right thing," she said. "The right thing is to say: 'No, this is not OK.' To hold people accountable. To make systemic change. To protect those that suffer in silence."

Primo was waived by the Spurs last Friday, just four games into his second NBA season.

Primo, through his attorney, denied any wrongdoing and lashed out at Cauthen's claims, saying she is "playing to ugly stereotypes and racially charged fears for her own financial benefit," and calling it an act of betrayal against a client.

"Dr. Cauthen's allegations are either a complete fabrication, a gross embellishment or utter fantasy," the attorney, William J. Briggs II, said. "Josh Primo never intentionally exposed himself to her or anyone else and was not even aware that his private parts were visible outside of his workout shorts."
Criminal charges are coming
. She is a team psychologist for an NBA basketball team, and she is shocked by Black behavior?
Here is a story about a Black former NBA star:
Dwyane Wade and his ex-wife Siohvaughn Funches-Wade are in opposition to their child, known as Zaya, transitioning to a transgender woman at the age of 15.

Wade filed a petition to legally change Zaya's name and gender on the birth certificate, to which Funches-Wade responded with an objection.

Funches-Wade claimed that her former husband and NBA player "is positioned to profit from the minor child's name and gender change with various companies through contacts and marketing opportunities including but not limited to deals with Disney." She makes her claim based on a conversation she had with Wade in April 2022, where he allegedly assured her the news of their child's transition had made them money and would continue to do so.
Really? Disney is paying Black athletes to castrate their teenaged sons? Hard to believe, but World War T is getting crazy.