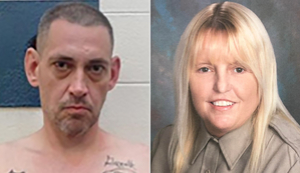 I have occasionally posted bad behavior by BIPOCs, so it is only fair to post some by White folks. These Whites are literally named White.
As the search continues for a missing former Alabama corrections officer and an inmate charged with murder, authorities remain in the dark on where the pair may have gone after the SUV they used after leaving the jail turned up little new information in the case.

The 2007 Ford SUV officials believe Vicky White, 56, and inmate Casey White, 38, were traveling in during their escape from the Lauderdale County Detention Center in Alabama more than a week ago was located in a Tennessee tow lot, Sheriff Rick Singleton said Friday during a news conference. ...

The corrections officer, who is now no longer employed by the sheriff's office, left with the inmate from the jail on the morning of April 29, saying she would take him to the courthouse for a mental health evaluation. She also said she would seek medical care for herself after dropping him off because she wasn't feeling well.

The pair never arrived at the courthouse or medical facility, setting off a manhunt involving local and federal authorities.

The two are not related but may have had a romantic relationship, Singleton has said.
Some women cannot resist big guys. He is 6'9" and 300 lbs. Yes, some White women have bad judgment.